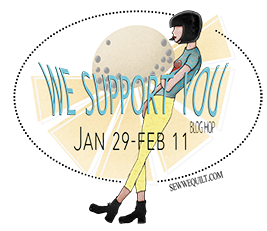 It has been a great hop. I've been blown away with sew many great ideas and sew seeing much support shown through the quilted items.
Thank you sew much Pat and Mdam Samm for putting this hop together through time and talent a lot of support has been spread out there.
I had a start on my project before going on a holiday. Sew when I got home and got rested up I was back on track working on it. Once I got started it was easy to keep working on it.
I chose to make a tote for a cousin of mine who is going through treatments. I thought it might be a nice way to have everything she might need while at the hospital and other appointments There is enough room for a quilt or extra sweater, pockets for glasses, water, novel or what ever else she might need. And it is already in use as has received it in the mail already
I have been sew impressed away by some of the other totes you ladies have made. All the projects have been great, and such a nice way to show our support to those around us.
Now to pop it into the mail sew that she will have it soon.
Do stop by and see what the other ladies have created with this little bra design.
I am sorry to say this is the last day of the hop .......... but I know there is another just around the corner.
Thanks for stopping by and remember
to stay
in stitches
Annette