November 21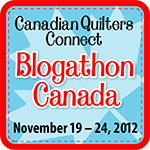 Well today the links will all be from Saskatchewan. Sew grab yourself a cup of tea and have a visit with the blogger's for today.
I have called this province home all my life.I love the skies... they are alive..... and you should see them at night with the northern lights that dance through the night.
I have been a blogger for almost 2 years and a quilter for about 30. I have grown as a quilter a lot over the years and hope to continue to grow with new ideas and skills in the years to come.
It is not a hobby it is a way of life!
I have been designing a few patterns for almost 10 years and teaching those patterns and others to many new quilters.
This year has been a bit of a blur.... you never know where one quilt will lead you..
I took my designing to a new level this year by entering a Challenge with Haus of Stitches for the 10th anniversary of the Stitches Conference.... a first for me. I designed a quilt I call Jewels of the Night.
I was amazed to have won the large quilt category as well as viewers choice. This was the first time I have entered anything with my quilts. I have donated to charities in the past, but this was all new to me.
Jewels of the Night
I also used the same quilt Jewels of the Night to enter a challenge on line with McCall's Quilting
for the Quilt Design Star 2012. This entry led to a busy summer of designing and making quilts. I was lucky enough to be designing right to the finials with the contest. I feel I was in great company all the way through and would encourage all of you to try you hand at designing and enter next year. ( watch for the May/June issue of McCall's Quilting, or check the web site, for more information)
"If you don't try you'll never know"
this is was I said about myself in the beginning and I am sew glad that I did. Here are my entries for the different challenges that we had this year. Check out their web site to see what everyone created and to see the bio pages on us as well..... There where 3 Canadians in the finals this year!!!And one of the winners came from Ontario. Way to go Lisette!
Guide Me Safely Home



Flutteryby's in My Garden
Holding On..
I am always doing some type of sewing / quilting and love to share what I know with others and I have even been a guest speaker at a guild this month. This was another first for me.... some how I thought it would be very hard to do. The ladies made it very easy for me to feel comfortable and show them what I had been up to this summer.
I do have a couple tuts on my blog and hope to do up a few more this winter, just to share some ideas I have come up with. Sew you are welcome to stop by anytime to see what's new.
Now I am trying to get a few items made up to give as gifts this holiday season..... just like the rest of you I'll be busy right up until Christmas getting caught up.
I love how we all can get to know sew many more quilters through the blogs and I have created some very special friendships here too.
Sew I hope you enjoyed learning a wee bit about me and stop by and check out the other blogger's with today's links
Here's the schedule
Here's how it works:
Each day host bloggers will introduce themselves and their work on their blogs. They will include links to more blogs from their province so you can visit those blogs as well. The host bloggers will also host a giveaway of some of their favorite goodies from our store so you have a chance to win every day of the week!
The host blogs!
| | | | |
| --- | --- | --- | --- |
| Sunday, November 18 | Kick-off! | Michele | |
| Monday, November 19 | BC | Felicity | |
| Monday, November 19 | BC | Cathy | |
| Tuesday, November 20 | NS | Jeanette | |
| Tuesday, November 20 | NB | Holly | |
| Wednesday, November 21 | AB | Shena | |
| Wednesday, November 21 | SK | Patti | |
| Thursday, November 22 | QC | Marika | |
| Thursday, November 22 | MB | Heather | |
| Friday, November 23 | YT | Vivian | |
| Friday, November 23 | YT | Janet | |
| Saturday, November 24 | ON | Cathi | |
| Saturday, November 24 | ON | Cara | |
| Saturday, November 24 | ON | Kaye | |
In stitches
Annette